Speciality

BUSINESS CATEGORY OF DACK

PPM
(Planned Preventive Maintenance)
Planned Preventive Maintenance (PPM) Team started in 2015 by DACK.
PPM concepts is to find hiden -defect by Pre-Inspection during call to port in Japan or in other countries by service-engineer.
By our own cost-planning supervisor , cost-performace difference between selection to keep machine until last moment to having malfunction or to carry out PPM prior to that last moment.
Our aim is to plan preventive maintenance by pre-inspection for critical machinery prior to facing fatal issue on the machine at the last moment.
Our company is on standby to carry PPM along with technical supervising from manufacturers for: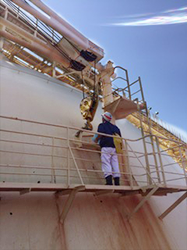 DECK MACHINERIES
DECK CRANE
STEERING GEAR
PROPLUSION GEAR
COMMUNICATION DEVICE
ELECTRIC DEVICE
You can contact us
at ppm@dack-osaka.com
at any time on this issue.